Tahun ini IEEE Indonesia Section dan chapter2 di bawahnya mengintensifkan serial2 seminar/lecturing di beberapa kota di Indonesia, secara paralel. Hey, melakukan serial secara paralel itu menarik :). Jadi, sementara serial 4G Mobile Technologies masih akan diselenggarakan di kota2 dan kampus2 lain, hari ini kami membuka serial baru: Digital TV. Seperti biasa, serial ini dibuka juga di Bandung; kali ini di Hotel Nalendra, Cihampelas.
Agak takjub dengan para peserta yang hadir dalam seminar hari ini. Kelas berat. Dari Bu Kusmarihati of Mastel (sebelumnya, beliau adalah Dirpem Telkom, Dirut Telkomsel, dan Ketua BRTI), beberapa Kepaja Jurusan dan pejabat dari Universitas2 (Universitas Hasanudin, Universitas Ahmad Yani, Universitas Maranatha, ITENAS, IT Telkom), wakil dari operator & provider (Telkom, XL Axiata, DAAITV, Nasio), dan beberapa profesional lain. Cukup kelas berat :).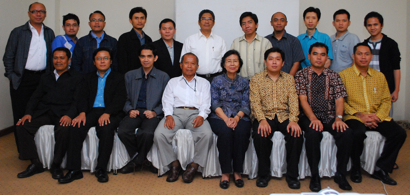 Materi dalam seminar hari ini:
Muhammad Ary Murti, IEEE sebagai Organisasi Profesi
Arief Hamdani Gunawan, Digital TV & IPTV Network
Kuncoro Wastuwibowo, Video Coding, Compression, & Format
Irwan Prasetya Gunawan, Quality of Service & Quality of Experience
Satrio Dharmanto, Implementasi IPTV di Beberapa Negara
Dan barangkali karena cuaca Bandung yang merupakan paduan antara sinar matahari yang cerah dan udara yang sejuk, diskusi kali ini berlangsung amat seru dan hangat. Bukan saja di level implementasi bisnis dan engineering decision misalnya, tetapi sampai pemilihan formula matematis pun dibahas dengan asyiknya (Kenapa sih pakai DCT, bukan DFFT — haha. Dan asyiknya, aku punya jawabannya, haha). Andai seminar2 sebelumnya juga seseru ini :).
Seminar IEEE ini juga didukung Multikom sebagai sponsor. Ini untuk pertama kalinya IEEE Indonesia mulai menerima sponsorship dalam seminar2 mandiri yang dilakukannya. Berikutnya Digital TV akan disampaikan dalam bentuk lecturing di Universitas Bina Nusantara weekend depan. Aku harus memilih antara memberikan lecturing atau hadir di Wordcamp Indonesia. Keputusan yang sulit.
Di Bandung sendiri sedang ada kegiatan menarik. Telkom menyelenggarakan Speedy Games Championship II di Paris van Java hari ini dan besok. Dari Nalendra ini, kayaknya aku bakal meluncur ke PvJ. Dari mode serius, beralih ke mode game. Eh, game itu serius loh :D