Ketidaktahuan memang anugerah :). Ada sense yang menarik waktu kita mempelajari sesuatu yang baru, misal waktu belajar komputer. Aku bahkan masih bisa membayangkan detik2 menarik waktu aku pertama kali mengetik dengan Chiwriter, dan menyaksikan huruf2 bergulir ke baris baru tanpa aku harus menekan Enter (seperti di mesin ketik), sementara kata2 di baris lama mensejajarkan diri dalam baris yang rapi. Juga waktu pertama kali mengetik puts("Hello world"); dan melakukan kompilasi dengan Turbo C. Dan ternyata yang macam gitu belum sepenuhnya hilang. Dia kembali waktu tahun 2006 aku mengupgrade komputer rumah bukan dengan PC lagi, tetapi dengan Mac.
Menikmati jadi novice, aku coba belajar dari buku (dan juga dari tanya2 — thanks to Eko and Jay). Belajar dari buku juga punya sense lain dibandingkan dari howto, dari ebook, dari i-documents — tak kalah yahudnya dibanding belajar sistem baru itu sendiri.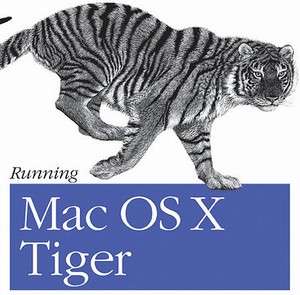 Dan buku yang dipilih adalah Running Mac OS X Tiger. Nah lo, kok baru beli sekarang — 1 tahun kemudian? Tadinya sih sekalian menunggu peluncuran Mac OS X Leopard yang dijadwalkan pertengahan tahun ini. Tapi ianya tak kunjung melandas jua. Akhirnya aku beli juga buku ini. (Hm, khabarnya akhirnya Leopard akan diluncurkan bulan Oktober ini juga — tapi biar deh, updatenya dipelajari via e-documents sahaja).
Buku ini bukan untuk novice sebenernya (hey, aku udah jadi user 1 tahun, masa novice melulu); tapi juga bukan untuk geek. Dia untuk power user. Mulai mendalami hal di balik GUI. Syukurlah aku nggak terlalu asing sama Unix. Tapi tentu Mac OS X bukan hanya Unix + GUI Aqua. Banyak serentetan hal menarik yang dihasilkan dari evolusi + revolusi + optimasi panjang dunia Mac; termasuk keputusan untuk menggeser dari Mac Classic ke Mac bergaya NeXT, lalu ke Unix BSD-based Darwin sebagai core. Banyak alternatif dimana kita bisa memainkan optimasi dan development. Toolsnya pun menarik untuk dicobai. Dan itu sebabnya buku ini jadi mengasyikkan.
Dan entah kenapa mimpiku jadi berisi tiger, panther, cheetah, puma, leopard, sekalian juga ocelot. Kecanduan Mac Macan kayaknya. Jadi lebih pintar? Not necessarily. Tapi hidup jadi lebih menarik.