"Imagination is more important than knowledge," begitu dia tulis. Juga: "A human being is a part of the whole, called by us 'Universe,' a part limited in time and space. He experiences himself, his thoughts and feelings as something separated from the rest kind of optical delusion of his consciousness. This delusion is a kind of prison for us, restricting us to our personal desires and to affection for a few persons nearest to us. Our task must be to free ourselves from this prison by widening our circle of compassion to embrace all living creatures and the whole of nature in its beauty. Nobody is able to achieve this completely, but the striving for such achievement is in itself a part of the liberation and a foundation for inner security."
Selamat Ulang Tahun, Albert Einstein, Tokoh Pilihan Abad ke 20. FYI, ini adalah ulang tahun ke 10000000, biner.
Dan kalau kita di abad ke 21 ini sudah lupa, kenapa seorang fisikawan bisa terpilih jadi tokoh abad ke 20, alih2 matematikawan, psikolog, politisi, teroris, juru damai, dan sebagainya; berarti kita betul2 lupa bahwa Einstein bukan sekedar fisikawan. Ia adalah inspirasi abad ke 20. Berbagai filsafat abad ke 20 memperoleh inspirasi dan semacam pembenaran dari hasil kerja (dan turunan hasil kerja) tokoh ini. Tapi, OK, kita tak sedang bicara soal ini :).
Hari ini kebetulan juga hari π. Tahun2 lalu pernah aku singgung sekilas di sini. Tapi tahun ini hari π diperingati di weblog Jay. Dan Jay jadi membahas konstanta. Dan waktu sekilas meninggalkan komentar, terpaksa aku mengingat kembali tokoh kita ini.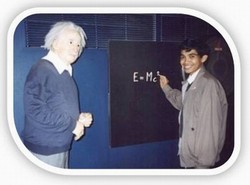 Saat mulai bermain dengan relativitas, Einstein mulai berbagi narasi bahwa waktu adalah dimensi yang sama dengan ruang. Dan dengan demikian ia mulai selau menulisnya sebagai besaran dimensi zeit-raum yang tunggal. Meneruskan permainan relativitas dan efek fotolistrik, ia berbagi diskursus yang lebih menarik: materi dan energi adalah entitas yang sama. E=mc2, dengan c sebuah tetapan yang hanya mengkonversi satuan. Tapi kalau ruang dan waktu memang sama, kenapa c harus punya nilai dan satuan. Berikan saja nilai 1. Kalau perlu satuan, c = 1 kaki per nanodetik :). Tapi kalau c tanpa satuan, kita bisa bayangkan bahwa waktu 1 nanodetik setara dengan jarak 1 kaki :) :). Kita teruskan dengan E = m. Kita bisa bercerita tentang massa sekian GeV tanpa harus mengkonversikan dalam hati menjadi kg. Dan, oh, kalau memang massa dan energi memang harus punya satuan (katakan eV), maka baik jarak maupun waktu sebagai dimensi 'sebenarnya' dapat dirumuskan sebagai inversi dimensi massa atau energi. Dengan demikian satuannya adalah eV-1. Kemudian … banyak hal2 menarik dari sini :), asal nggak terantuk sama angka 137.