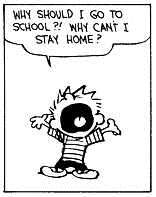 Berat juga euh, kerasa. Tekanan darah mulai nggak teratur. Perlu istirahat yang cukup kayaknya. Tapi malam cepat berganti pagi (niru Trie Utami), jadi udah harus bangun lagi, ngabur ke kampus lagi, dan di kampus waktu merangkak lambat minta ampun. Ntar aja, kalau udah sore kayak gini, lagi bikin assignment, waktu lari lagi, tau-tau udah malem, terus kurang istirahat lagi.
Kampus ini memang rada aneh. Kuliah aja diwajibkan, dan nggak pakai sistem tutor kayak universitas lain. Buat aku sih, mendingan belajar sendiri banyak-banyak, terus diskusi sama tutor, daripada harus ngantuk di kelas.
OK, biar hidup jalan terus, aku cari viariasi aja lagi. Malam ini aku nggak ikutan ke C&W lagi. Mau ikutan seminar IEE. Judulnya asik juga, Hitchhiker Guide to the Optical Network. Cuman temen yang mau diajak ikutan cuman Adnan and Khaldoun. Soalnya, makhluk sinting mana sih yang cari kesibukan di luar kuliah dengan ikutan seminar optik ?