Tak seperti biasanya, kali ini Gunung Merapi tampak detil2 liku2nya lengkap dengan puncak menjulang dan asap tipisnya, bahkan sejak Garuda belum mendarat di Yogyakarta. Udara jernih nyaris tanpa kabut dan awan tipis. Ya, setelah Bandung, kali giliran Yogyakarta menjadi tuan rumah bagi lecturing "Opening The Gates to 4G Mobile Technology" yang diselenggarakan oleh IEEE Communications Society Indonesia Chapter.
Bertempat di Hotel Santika (19 Desember 2009), seminar ini masih menyampaikan materi yang sama dengan Bandung, namun telah diperkaya oleh hasil diskusi di Bandung. Speaker dan materinya meliputi:
Muhammad Ary Murti: Pengenalan IEEE, societies, Indonesia section, chapters, membership.
Kuncoro Wastuwibowo: 4G Mobile Technologies, network, service, cognitive radio, context awareness, candidates
Arif Hamdani Gunawan: Candidate I –> LTE, evolution, features, architecture, OFDMA & SCFDMA, implementation plan
FX Ari Wibowo: Candidate II –> WiMAX II, comparison of 802.16e vs 802.16m, specifications, features, architecture
Peserta datang dari Bandung, Yogyakarta, dan berbagai kota lainnya. Diskusi cukup tajam, membahas spesifikasi detail, spekulasi mengenai lenyapnya UMB :), hingga pengembangan aplikasi di atas teknologi 4G.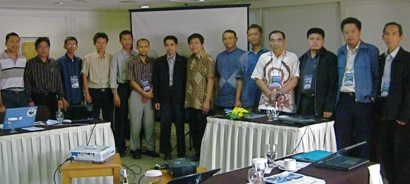 Setelah Yogyakarta, Teknologi 4G akan juga dibawakan ke kota-kota lain, sementara di awal 2010 nanti juga IEEE akan mulai meluncurkan tema-tema yang berbeda untuk lecturingnya. Lecturing ini akan disampaikan melalui beberapa metode sesuai tujuan. Bentuknya bisa kuliah umum di kampus, lecturing intensif seperti saat ini, atau conference yang lebih besar. Namun tentu akan diperlukan dukungan lebih banyak volunteer :). Punya passion di bidang ini?