So sesuai rencana, aku sedang berada di Universitas Trisakti (Grogol, Jakarta) hari ini. Judul acaranya IEEE Distinguished Lecture on Mobile Telecommunications and Enery Efficient Systems. Ini merupakan bagian dari Dies Natalis Universitas Trisakti. Undangan untuk acara ini diterbitkan oleh Jur Teknik Elektro, Fak Teknologi Industri. Acara dibuka oleh Ibu Ir. Docky Saraswati, MEng, dekan FTI; dan Bapak Ir Chairul G Irianto, MT, Kajur Tek Elektro pada pukul 9.00. Wuih, jadi rajin nulis gelar. Udah ah.
Seperti biasa, presentasi dalam IEEE Roadshow dimulai dengan mengenalkan kembali IEEE; oleh Mas Ary (Chairman of Indonesia Comsoc chapter). Dan berikutnya aku memaparkan tema Next Generation Mobile System, yang berisi ringkasan aspek2 dalam komunikasi mobile masa kini ke depan, baik network maupun servicenya. Di network ada quality of service (QoS), di service ada quality of context (QoC).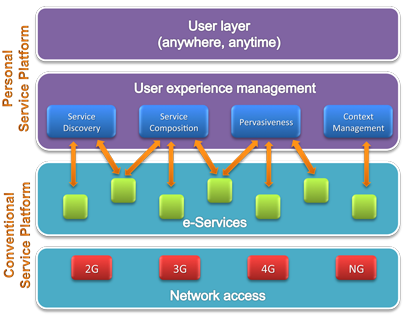 Hall di Gedung F-G Kampus A itu penuh sesak. Rupanya kuliah umum ini diwajibkan oleh pihak jurusan kepada Mahasiswa Elektro. Umumnya mahasiswa yang hadir dari Semester 6 ke atas: sudah cukup kritis, tetapi tetap bergaya sopan. Barangkali karena ada Kajur di antara mereka, haha. Puluhan pin IEEE yang aku bawa dari Bandung kelihatannya kurang cukup, jadi akhirnya dibagikan hanya ke penanya, panitia, dan peminat IEEE.
Acara berakhir pukul 12.00. Lalu ramah tamah di Kantor Jurusan Elektro, dan kunjungan ke Lab Telekomunikasi. Hmm, terasa sangat singkat, dan kami meluncur ke Bandung lagi. Sekitar Purwakarta, hujan deras sekali. Nyaris tak nampak apa pun di luar jendela. AWGN :p