TENSYMP 2016 (atau lengkapnya: The 2016 IEEE Region 10 Annual Symposium) telah dilaksanakan di Sanur Paradise Plaza, Bali, tanggal 9–11 Mei 2016 lalu. Sebanyak 213 paper didaftarkan dalam simposium ini, namun hanya 96 yang lolos seleksi komite, yang artinya acceptance rate hanya 45%. Dari jumlah itu, 72 paper dipresentasikan dalam simposium ini.
Walaupun dinamai sebagai simposium, TENSYMP sebenarnya memiliki tingkatan sebagai sebuah konferensi; dan merupakan konferensi terbesar kedua yang dimiliki oleh IEEE Region 10 (Asia Pasifik). Namun TENSYMP masih berusia muda. Konferensi di Bali ini hanyalah TENSYMP keempat. Tujuannya adalah meningkatkan peran IEEE dalam pengembangan dan peningkatan kesejahteraan masyarakat Asia-Pasifik melalui penyebaran pengetahuan dan pengalaman teknologi. Konferensi ini dibuka oleh Direktur IEEE Region 10, Ramakrishna Kappagantu, disertai oleh:
Satriyo Dharmanto, IEEE Indonesia Section Chair
Dr. Ford Lumban Gaol, IEEE TENSYMP 2016 General Co-Chair
Kuncoro Wastuwibowo, IEEE TENSYMP 2016 General Co-Chair
Prof. Gamantyo Hendrantoro, IEEE TENSYMP 2016 TPC Chair
Dr. Basuki Yusuf Iskandar, Kepala Riset dan Pengembangan SDM Kemkominfo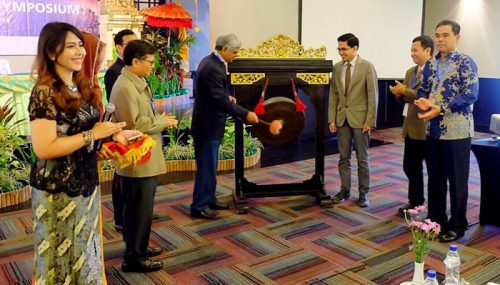 Topik TENSYMP tahun ini kami pilih dengan mempertimbangkan posisi Asia-Pasifik sebagai pusat riset, pengembangan, dan bisnis TIK. Kita berada di tengah pengembangan perangkat, layanan, dan aplikasi digital yang berproliferasi dalam tingkat yang belum terbayangkan; namun dengan nisbah keberhasilan yang belum memuaskan. Kegagalan di bidang TIK umumnya disebabkan oleh akses yang kurang memadai terhadap teknologi, pasar, komunitas, atau investasi. IEEE sebagai komunitas merasa tertantang untuk mengatasi masalah-masalah ini dengan menyusun koherensi pada tingkatan teknologi, infrastruktur, dan peluang bisnis. Tantangan lain adalah perlunya mengarahkan pengembangan teknologi untuk secara konsisten menumbuhkan harkat hidup manusia. Arahan inilah yang menjadi dasar untuk menyusun tema TENSYMP 2016: Smart Computing, Communications, and Informatics of the Future. Riset yang mengarah ke pengembangan platform dan aplikasi tetap ditujukan untuk mencerdaskan kehidupan manusia.
Direktur IEEE Region 10 Ramakrishna Kappagantu menyebutkan bahwa melalui TENSYMP 2016, IEEE Region 10 bermaksud untuk:
Mempersembahkan forum internasional yang prestisius untuk berinteraksi dalam bidang-bidang elektri, komputer, dan teknologi informasi, dalam bentu paper, pameran, paparan ilmiah, tutorial, dan aktivitas lainnya.
Menyebarkan pengetahuan dan pengalaman teknis kepada masyarakat di kawasan Asia-Pasifik.
Mendorong pengkajian dan interaksi teknologi dan aplikasinya dalam konteks sosial, politik, dan kemanusiaan secara lebih luas.
Memperkuat kemampuan interpersonal dan profesional serta semangat kepemimpinan dari volunteer di bidang-bidang teknologi dan rekayasa.
Konferensi ini menampilkan lima pembicara kunci:
Prof. Kukjin Chun: Microelectromechanical Systems Technology Development.
Prof. Benjamin Wah: Consistent Synchronization Of Action Order with Least Noticeable Delays Ini MultiPlayer Online Games
Prof. Rod van Meter: Analyzing Applications for Quantum Repeater Network
Prof. Soegijarjo Soegidjoko, Biomedical Engineering Advances for a Better Life in Developed & Developing Countries
Dr. Basuki Yusuf Iskandar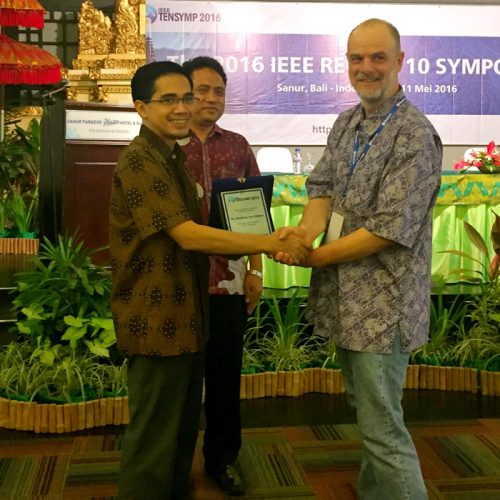 Konferensi juga menampilkan tujuh sesi tutorial, dengan para tutor yang berasal dari berbagai negeri di Asia-Pasifik. Kami juga menyelenggarakan Gala Dinner yang dihadiri seluruh peserta konferensi, dan juga dihadiri Prof Kukjin Chun sebagai Direktur Terpilih dari IEEE Region 10 (yang akan menjabat sebagai Direktur di tahun 2017).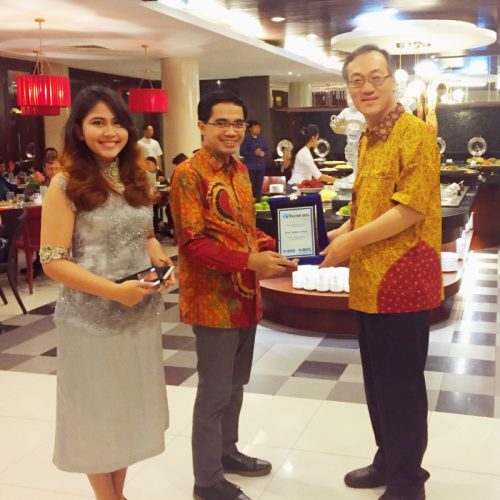 Kegiatan lain dalam konferensi ini:
IEEE Region 10 Young Professional Gathering
IEEE Region 10 Women in Engineering Sharing Session
IEEE Region 10 Education Activities Sharing Session
IEEE TENSYMP 2016 Industry Forum