Tampaknya banyak IEEE conference yang dijadwalkan menjelang akhir tahun 2013. Terlalu banyak, dengan waktu yang saling mendesak. Syukur, executive committee dan para officers di IEEE Indonesia Section punya komitmen tinggi untuk dapat menjaga kegiatan-kegiatan ini. Secara pribadi, aku tidak bisa mengawal semua. Termasuk flag conference IEEE Indonesia Section ini: Comnetsat dan Cyberneticscom.
Comnetsat dan Cyberneticscom tahun ini diselenggarakan di Sheraton Hotel, Yogyakarta, 3-4 Desember. Sebenarnya aku sudah menjadwalkan untuk hadir penuh di konferensi paralel ini, yang sudah dijadwalkan bahkan sejak Januari. Tiket pun sudah terbeli. Tapi HR Telkom membuat undangan mendadak untuk assessment yang sifatnya wajib pada Hari H. Maka aku baru bisa hadir setelah Hari-1 selesai. Pembukaan dilakukan oleh General Chair, Dr Ford Lumban Gaol; dan sambutan IEEE Indonesia Section dilakukan oleh Pak Arnold Djiwatampu, Advisory Board. Keynote Speech yang temanya paling menarik buatku adalah Quantum Communications, yang disampaikan oleh Prof. Rodney van Meter. Tapi sayangnya aku malah gak hadir :(.
Aku baru melandas di Yogya Selasa malam, dan langsung menuju Gala Dinner di Kraton Yogyakarta. Hadir sekitar 80 orang dalam acara ini. Aku meluangkan sekitar 3 menit untuk Welcome Speech dari IEEE Indonesia Section, sekaligus appreciation buat Telkom Indonesia yang menyumbangkan dinner ini. Dinner dipilih dari favorit para Sultan Yogya terdahulu. Menunya unik, sampai aku gak tahu namanya :D.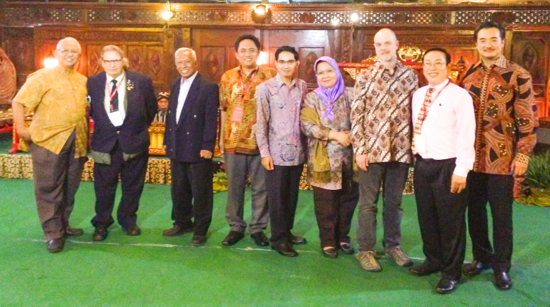 Aku mengambil posisi meja bersama Prof Van Meter dan Dr Agung Trisetyarso. Mas Agung ini adalah apprentice dari Van Meter, dan pagi sebelumnya jadi session chair dalam sesi keynote speech Van Meter. Talk dengan mereka bahkan lebih menarik lagi daripada dinner-nya sendiri. FYI, riset Van Meter tahun ini dipaparkan di IEEE Communications Magazine dan juga di Communications of the ACM (CACM).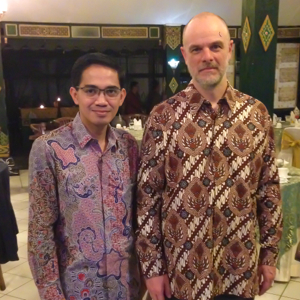 Balik ke Sheraton, aku terkapar di kursi malas dekat kolam. Kena akumulasi kelelahan beberapa hari / minggu, aku malah pulas di samping kolam. Bangun, balik ke kamar. Dan baru sadar bahwa mungkin ini pertama kali aku boleh tidur pulas di malam konferensi internasional yang kami selenggarakan. Biasanya sok sibuk persiapan presentasi ini itu.
Hari berikutnya masih banyak keynote speech menarik. Prof Benyamin Wah, past chair dari IEEE Computer Society, dan provost  dari Chineses University Hongkong, mengkaji Parallel Decomposition, yang berawal dari perlunya optimisasi dari berbagai aplikasi komputasi natural, termasuk komputasi neural dan evolusioner. Prof Wolfgang Martin Boerner, dari IEEE GRSS Asia Pacific, memaparkan Future Perspectives of Microwave Imaging with Application to Multi-Parameter Fully Polarimetric POLSAR Remote Sensing and Geophysical Stress-Change Monitoring. Dari Telkom Indonesia, Pak Rizkan Chandra diwakili oleh Pak Era Kamali Nasution, mengkaji kasus deployment network dengan konvergensi vertikal dengan pendekatan ekosistem.
Sesi paralel sesudahnya cukup menarik. Peserta bukan saja datang dari kawasan Asia Pasifik seperti yang dibayangkan, tetapi dari negeri-negeri yang cukup tersebar. BTW, Conference Chair untuk Comnetsat adalah Dr Arifin Nugroho, dengan TPC Chair Prof Eko Tjipto rahardjo. Conference Chair untuk Cyberneticscom adalah Dr Wahidin Wahab, dengan TPC Chair Prof Riri Fitri Sari.