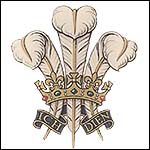 Cerita Wales lagi, tapi kali ini soal kekuasaan, bukan sebagai negeri unik di ujung dunia itu. Sebelum jadi bagian dari Inggris, Wales adalah kepangeranan, yang dipimpin Pangeran Wales, Prince of Wales. Yang terakhir adalah Llywelyn. England di bawah raja Edward I menduduki Wales — dia juga berminat menduduki Scotland, tapi gagal. Edward mengangkat putranya, Edward II, sebagai Prince of Wales.
Kebetulan, anak Edward II namanya Edward III, yang nggak diangkat jadi Prince of Wales. Namun, saat Edward III jadi raja England, ia mengangkat putranya, yang namanya Edward the Black Prince (percayalah, cerita ini banyak Edward-nya), sebagai Prince of Wales. Di zaman itu, England sedang berperang 100 tahun melawan Perancis. Soal keluarga, gitu lah, ditambah fakta bahwa Perancis mendukung perjuangan Scotland yang nggak mau dijajah England. Di Crecy, England menang besar terhadap Perancis, mengorbankan para bangsawan Perancis, termasuk John of Luxembourg, raja Bohemia (bingung kan sama urusan raja ini). Salah satu pahlawan England waktu itu adalah si Edward the Black Prince itu, yang berperang dengan baju zirah hitam. Edward ini mengambil logo Raja Bohemia, yaitu tiga bulu putih, dan semboyannya dalam bahasa Jerman: ich dien — I serve.
Sejak itu, secara tradisi, anak lelaki raja atau ratu Inggris yang menurut urutan akan jadi calon raja, akan diangkat sebagai Prince of Wales, dan memakai logo dan semboyan itu. Juga, sejak saat itu, Prince of Wales tidak ada hubungannya dengan kekuasaan di Wales. Cuman jadi tradisi aja.
Prince of Wales yang sekarang, kita tahu, bukan Pangeran Edward, tapi Pangeran Charles (Pangeran Edward bergelar Earl of Wessex). Logo Prince of Wales dipasang pada koin dua pence. Kasihan nih si pangeran, kebagian dua pence, sama kasihannya sama bangsa Wales.
Omong2, Wales adalah kata dalam budaya England yang berarti "orang luar". Orang Wales sendiri tentu tidak sudi menamai diri sebagai Wales. Mereka menyebut negerinya Cymru, yang artinya "orang kita". Duh.
Sedikit ke barat, para mamalia air juga memiliki kerajaan, dipimpin oleh Prince of Whales.