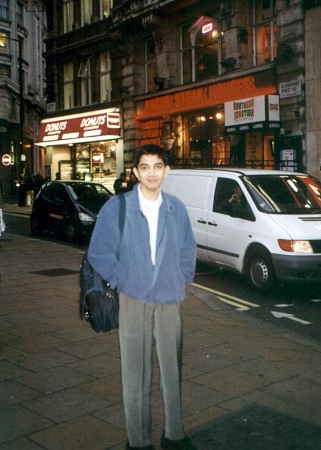 Hari ini tiket daytripper tak terlalu banyak dipakai. Banyak jalan kaki saja sampai sore.
Berbuka puasa di Leicester Square (langganan amat sih). Mengelilingi semua sudut di putaran Picadilly. Dan baru akhirnya naik bis ke Trafalgar (nonton choir di tengah lapangan), dan naik Tube ke Victoria, jalan setengah berlari ke terminal Leuwipanjang, dan menghempaskan badan yang kelelahan di bis nomor 422.
Si sopir bermuka serius. Dia menerima tiket dengan kaku. Kesannya kayak lagi main teater. Tadi di dalam bis, aku berubah pikiran. Mungkin saja dia mantan DJ. Announcementnya aneh-aneh, dengan gaya setengah rap.
Aku paksa mata untuk terpejam. Tapi kelelahan menghalangi. Jadi diam aja menikmati kegelapan motorway ke arah Midlands. Waktu mata akhirnya mulai terpejam, si sopir teriak lagi "Ladies and gentlemen, we're now in Coventry. WAKE UP! What's the matter with you?" Duh, DJ asli.